Discover the top 10 compelling reasons why WordPress stands as the ultimate choice for building and managing your website in 2023.
"What is WordPress?
Why should we use WordPress for our website?
What are the advantages of using WordPress on our website?
The article below has answers to all your questions.
Please read this article carefully."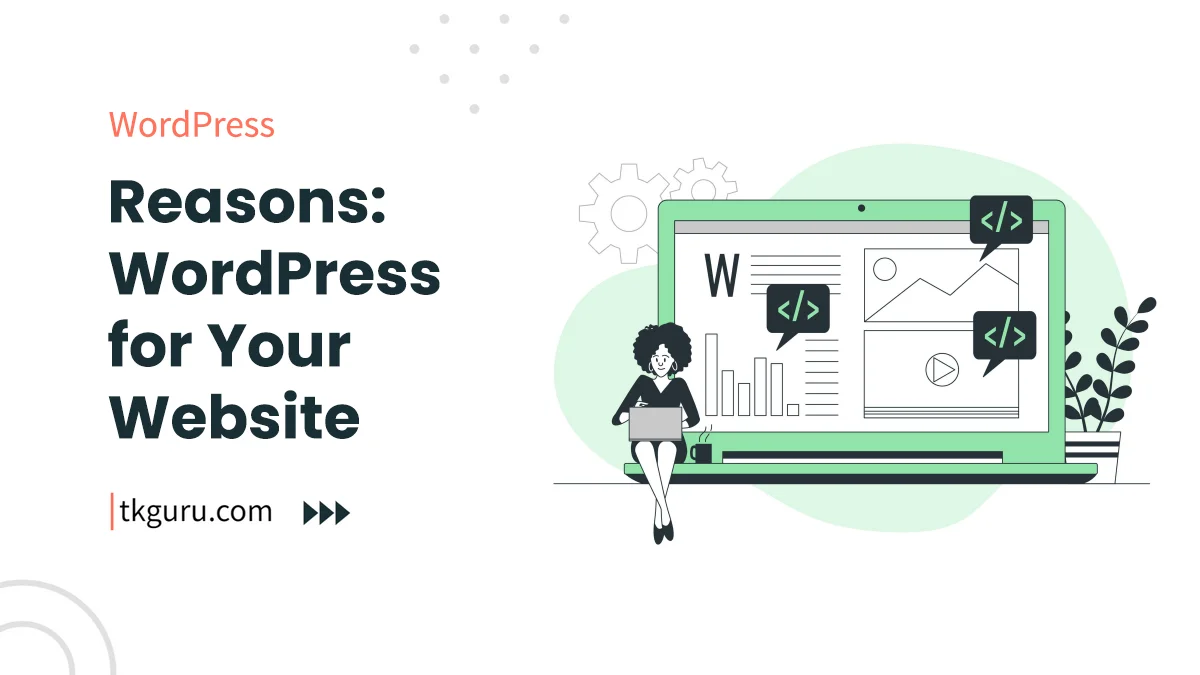 Disclosure:
Some of the links below are affiliate links, meaning that at no additional cost to you, I will receive a commission if you click through and make a purchase. Read our full affiliate disclosure here.
reasons-wordpress-website
10 Reasons : WordPress for Your Website – There was a time when building your own company website meant hiring a web development team or whether you had an issue with your website or needed help understanding why your website was not getting any traffic.
Glad those days are gone. Thanks to WordPress, you get two main advantages with WordPress – best website design and complete control over your website.
WordPress is free to install, deploy and upgrade. Thousands of plugins and templates are available for free to use, which reduces website development cost and deployment time.
If you are going to create a new website, here we are telling you 10 reasons why you should create a website on WordPress platform.
1. WordPress is Free
First of all, WordPress is completely free and there is no hidden cost. You will not be charged any fee for upgrading the core system of WordPress.
WordPress is also open source, this means that you can improve or change the source code to create the perfect website according to your needs.
2. Using WordPress is Easy
This is a big advantage that WordPress is very easy to use. I have seen some starting problems with some people, but everyone gets over it very quickly.
It provides an intuitive user interface. In WordPress, we can easily add pages, posts, images, multimedia files and many plugins.
The design and structure of WordPress is so good that you do not need to manage it separately and you can focus more on growing your business.
WordPress has a huge library of plugins that can help you turn your website into an e-commerce website, business directory listing website, invoicing system, photo gallery, or any other idea you can dream up.
3. You have total control over your website
With WordPress you have total control over your website. You can make changes in the design, theme, plugin of the website according to your requirement.
WordPress also allows you to provide individualized log-ins and access levels to multiple users on your website. This makes it easy to delegate certain website responsibilities to company employees and team members.
4. WordPress is Safe and Secure
Website security is a major concern for all webmasters, WordPress is always updating its core system, to keep your website and its visitors safe and secure.
Whenever security updates are available, WordPress notifies you with a direct link to one-click install them.
Some webmasters say that WordPress is unsecured, but this is actually caused by unsecured plugins and/or poor web hosting.
5. Plugins increase the functionality of your website
WordPress provides a huge library of plugins that you can use to improve the functionality of your website.
These plugins help you add exciting features to your website such as photo galleries, interactive forums, facebook boxes, shopping carts, Google maps and event calendars.
The best part is that you do not need to write any code to install these plugins. Simply choose from the WordPress plugin directory and click to install. This is a very easy task.
6. WordPress supports multiple media
In WordPress, you can create many types of posts other than text posts. You can add audio, video, image or any other type of media to the post.
It also supports YouTube, Facebook, Twitter and other websites, that's why you can embed content from these websites in WordPress website.
You can also allow your visitors to post videos in comments. It shows the flexibility of WordPress.
7. WordPress is SEO Friendly
Google and other search engines love WordPress because its basic code is clean and simple, making it easy for search engines to read and index.
WordPress also provides many SEO plugins that make it easy for inexperienced webmasters to optimize their website with meta data, structured data, social optimization. WordPress has an invaluable feature for inexperienced webmasters.
8. WordPress is Mobile Friendly
In today's time, it is important for any website that that website should be mobile friendly, that is, change its layout according to the layout of smartphones and tablets.
With WordPress you do not have to worry about it, it is already mobile friendly and you will get many such themes for free from WordPress theme director which are already mobile friendly.
9. Many resources of WordPress are freely available
WordPress itself is a free software. Thousands of themes and plugins are available for free use in the WordPress directory.
Many Web Hosting companies are also providing free hosting for WordPress websites. And if you are new to WordPress then you will find thousands of tutorials and guides online with the help of which you can learn WordPress yourself.
10. WordPress Has Excellent Support and Help Forums
Do you have any WordPress related question?
If yes, then there is a dedicated WordPress forum for different solutions to your problem.
One of the great things about WordPress is that its support is exceptionally good because everyone is using it.
WordPress is incredibly useful in terms of design and structure, but if you have any query related to WordPress, you can find a solution in the WordPress forum.
Conclusion
If you want to create a website and are thinking of creating a website on WordPress platform, then without any doubt you can use WordPress.
WordPress is the most used platform today. About 60% of the websites are working on WordPress platform in today's time.
WordPress Website FAQs
What is a WordPress website?
WordPress website is a website that is built using the WordPress content management system.

It allows users to easily create and manage website content without needing advanced technical skills.
Can I create an e-commerce website using WordPress?
Yes, WordPress can be used to create e-commerce websites by using plugins such as WooCommerce or Easy Digital Downloads.

These plugins allow you to add products, manage orders, and process payments.
How do I create a blog on WordPress?
Creating a blog on WordPress is easy. Simply go to the WordPress dashboard and click on 'Posts' to create a new blog post.

You can add text, images, and other media to your blog post, and then publish it to your website.
Is it possible to customize the design of my WordPress website?
Yes, WordPress allows you to customize the design of your website by using themes. There are many free and premium themes available that can be used to change the look and feel of your website.

You can also use plugins to add custom functionality and features to your website.
Can I optimize my WordPress website for search engines?
Yes, WordPress websites can be optimized for search engines by using plugins such as Yoast SEO or All in One SEO Pack.

These plugins allow you to add meta titles, descriptions, and keywords to your website, as well as provide other SEO optimization features.
Recent Posts
Related Tags
10 reasons to use wordpress, use of wordpress in web development, wordpress advantages and disadvantages, why use wordpress for website, is wordpress good for professional websites, disadvantages of wordpress, what is wordpress used for, benefits of wordpress for business