Embark on your online journey with a comprehensive, step-by-step guide on creating a WordPress website tailored for beginners in 2023.
"How can we make a website?
How can you make a website for your business?
The article below has answers to all your questions.
Please read this article carefully."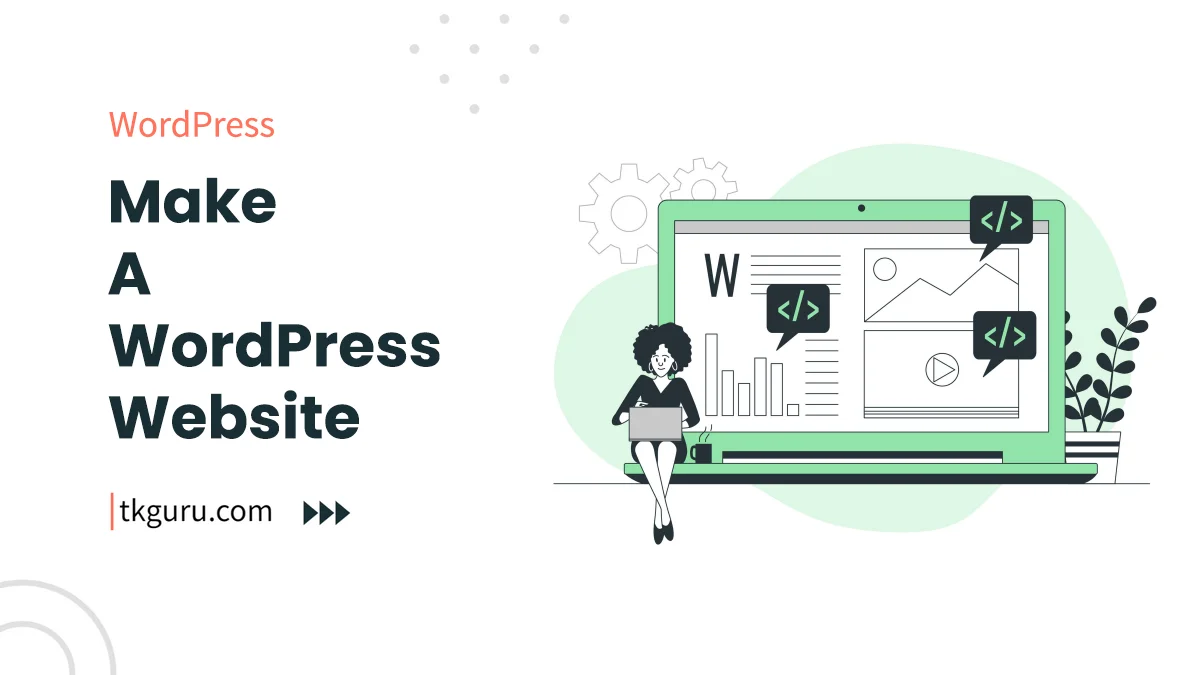 Disclosure:
Some of the links below are affiliate links, meaning that at no additional cost to you, I will receive a commission if you click through and make a purchase. Read our full affiliate disclosure here.
Make a WordPress Website 2023 – In today's digital era, having a functional and appealing website is crucial for individuals, businesses, and organizations of all types.
Whether you're showcasing your portfolio, running an online store, or sharing valuable information, a well-designed website can help you reach a wider audience and achieve your goals.
One of the most popular and user-friendly platforms for creating websites is WordPress. With its intuitive interface, customizable themes, and extensive plugin ecosystem, WordPress empowers beginners to create professional-looking websites without the need for coding skills.
1. WordPress Website Making: Step-by-Step Guide
This step-by-step guide aims to help beginners navigate the process of building a WordPress website from scratch.
By following these comprehensive instructions and using the provided tables, you'll be able to set up a fully functional website that suits your needs and preferences.
Let's dive into the details and explore each step of creating a WordPress website.
Step 1: Choose a Domain Name
The first step in creating your WordPress website is choosing a domain name. This is the web address that users will use to access your site.
It's essential to select a domain name that's relevant, memorable, and aligns with your website's purpose.
Relevance: Ensure that your domain name is relevant to your website's content or purpose.
Memorability: Pick a name that is easy to remember and type.
Availability: Check the domain's availability using domain registration services like GoDaddy, Namecheap, or Google Domains.
Use the table below to keep track of potential domain names and their availability.
| Domain Name | Availability |
| --- | --- |
| example.com | Available |
| mywebsite.net | Taken |
| bestblog.org | Available |
| uniquedomain.xyz | Available |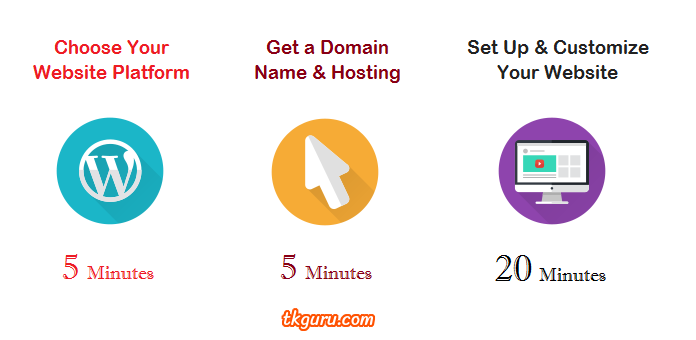 Step 2: Purchase Web Hosting
Web hosting is where your website's files and data are stored. A reliable hosting provider ensures that your site is accessible to visitors around the clock.
When choosing a hosting plan, consider factors such as server speed, uptime guarantees, customer support, and scalability. Here's a comparison table for popular hosting providers:
| Hosting Provider | Price (Per Month) | Disk Space | Bandwidth | Free Domain |
| --- | --- | --- | --- | --- |
| Bluehost | $3.95 | 50GB | Unmetered | Included |
| SiteGround | $6.99 | 10GB | 10,000GB | Not Included |
| HostGator | $2.75 | Unlimited | Unmetered | Not Included |
Step 3: Install WordPress
WordPress is a user-friendly content management system that powers over 40% of websites on the internet.
Most hosting providers offer one-click WordPress installation. Use the following table to track your installation details:
| Hosting Provider | WordPress Installation Status | Admin Username | Admin Password |
| --- | --- | --- | --- |
| Bluehost | Installed | admin | ********** |
| SiteGround | Installed | admin | ********** |
| HostGator | Not Installed | – | – |
Step 4: Choose a Theme
WordPress themes control your website's design and layout. There are thousands of free and premium themes available, catering to various niches and styles.
When selecting a theme, consider its responsiveness, customization options, and compatibility with plugins. Compare themes using the table below:
| Theme Name | Type | Features | Rating |
| --- | --- | --- | --- |
| Astra | Free | Lightweight, customizable | 4.9/5 |
| Divi | Premium | Drag-and-drop builder, versatile | 4.7/5 |
| OceanWP | Free | WooCommerce integration, responsive | 4.8/5 |
Step 5: Customize Your Website
Customizing your website's appearance is made easy with the WordPress Customizer. Use the table below to track your customization choices:
| Customization Area | Selected Options |
| --- | --- |
| Header | Logo, Navigation Menu |
| Colors | Primary Color, Background |
| Typography | Font Family, Font Size |
Step 6: Install Essential Plugins
Plugins add functionality to your WordPress website. Some essential plugins include those for SEO, security, and performance optimization.
Here's a list of plugins to consider:
| Plugin Name | Purpose | Active |
| --- | --- | --- |
| Yoast SEO | SEO optimization | Yes |
| WooCommerce | E-commerce functionality | No |
| W3 Total Cache | Caching and performance | No |
Step 7: Create Pages and Content
Pages are the building blocks of your website. They can include a homepage, about page, contact page, and more.
Here's a table to help you organize your pages and their content:
| Page Name | Content Type | Status |
| --- | --- | --- |
| Home | Welcome message | Published |
| About | Company history | Draft |
| Contact | Contact form | Published |
Navigation menus help visitors navigate your website easily. WordPress allows you to create custom menus and assign them to specific areas.
Use the table below to track your menu structure:
| Menu Name | Locations | Menu Items |
| --- | --- | --- |
| Primary Menu | Header | Home, About, Contact |
| Footer Menu | Footer | Privacy Policy |
Step 9: Configure Widgets
Widgets add extra functionality to your website's sidebars and footers. Keep track of your widget placements using the table below:
| Widget Area | Widgets Added |
| --- | --- |
| Sidebar | Recent Posts, Categories |
| Footer | Social Media Links, Newsletter |
Step 10: Optimize for SEO
Optimizing your website for search engines is essential for visibility. Use the table to track your SEO optimization efforts:
| Page/Post | Focus Keyword | Meta Description |
| --- | --- | --- |
| Home | WordPress website | Create your… |
| About | Company history | Learn about… |
| Blog Post | SEO tips | Improve your… |
Step 11: Preview and Test
Before launching your website, preview and test its functionality across different devices and browsers.
Keep a record using the following table:
| Device/Browser | Preview Status | Issues Detected |
| --- | --- | --- |
| Desktop | Previewed | None |
| Mobile | Previewed | Formatting issue |
Step 12: Launch Your Website
Once you're satisfied with your website, it's time to make it live. Use the table to track your launch checklist:
| Task | Completion Status |
| --- | --- |
| Change status to Live | Completed |
| Announce launch | Pending |
Conclusion
Creating a WordPress website might seem overwhelming at first, but by following these step-by-step instructions and utilizing the provided tables, you can build a website that suits your needs and reflects your brand.
Remember that WordPress offers endless customization possibilities, so feel free to explore and experiment with different features to make your website truly unique and functional.
Make a Website FAQs
How can I make a website?
You can make a website by following these steps:

1. Choose a domain name (website address).
2. Choose a web hosting provider and plan.
3. Install a website builder (e.g., WordPress, Wix, Squarespace) or use coding languages (HTML, CSS, etc.).
4. Design your website's layout, structure, and pages.
5. Add content such as text, images, and videos.
6. Customize your website's appearance and functionality.
7. Optimize for mobile responsiveness and SEO.
8. Test your website and publish it online.
Do I need coding skills to make a website?
No, you don't necessarily need coding skills to make a website. Many website builders offer user-friendly drag-and-drop interfaces that allow you to create a website without coding.

However, coding knowledge can give you more customization options.
How do I choose a domain name for my website?
Choose a domain name that is relevant to your website's content, easy to remember, and ideally reflects your brand or niche.

Keep it short, avoid special characters, and choose a domain extension like .com, .net, or .org.
What is web hosting, and why do I need it?
Web hosting is a service that stores your website's files and data on a server, making it accessible on the internet.

You need web hosting to make your website live and accessible to visitors. Choose a hosting provider that suits your website's needs and budget.
How can I optimize my website for search engines (SEO)?
To optimize your website for SEO, focus on using relevant keywords in your content, optimizing meta titles and descriptions, using descriptive image alt tags, creating a user-friendly site structure, and building high-quality backlinks. Consider learning about on-page and off-page SEO techniques.

Creating a website is an exciting process that allows you to share your content or business with the world.

Whether you're using a website builder or coding from scratch, following best practices for design, user experience, and SEO can help you create a successful online presence.
Recent Posts
Related Tags
How to create a website in HTML Step by Step in Hindi, How to create website for free in Hindi, CSS me website kaise banaye, How to make website, How to create a Website Code with Harry, How to build a website with coding, How to make website on Google in Hindi, How to Make a website in 5 Minutes