Elevate your business's online visibility in local searches with our guide on Local SEO, revealing the strategies and tactics to ensure that your brick-and-mortar establishment thrives in the digital landscape.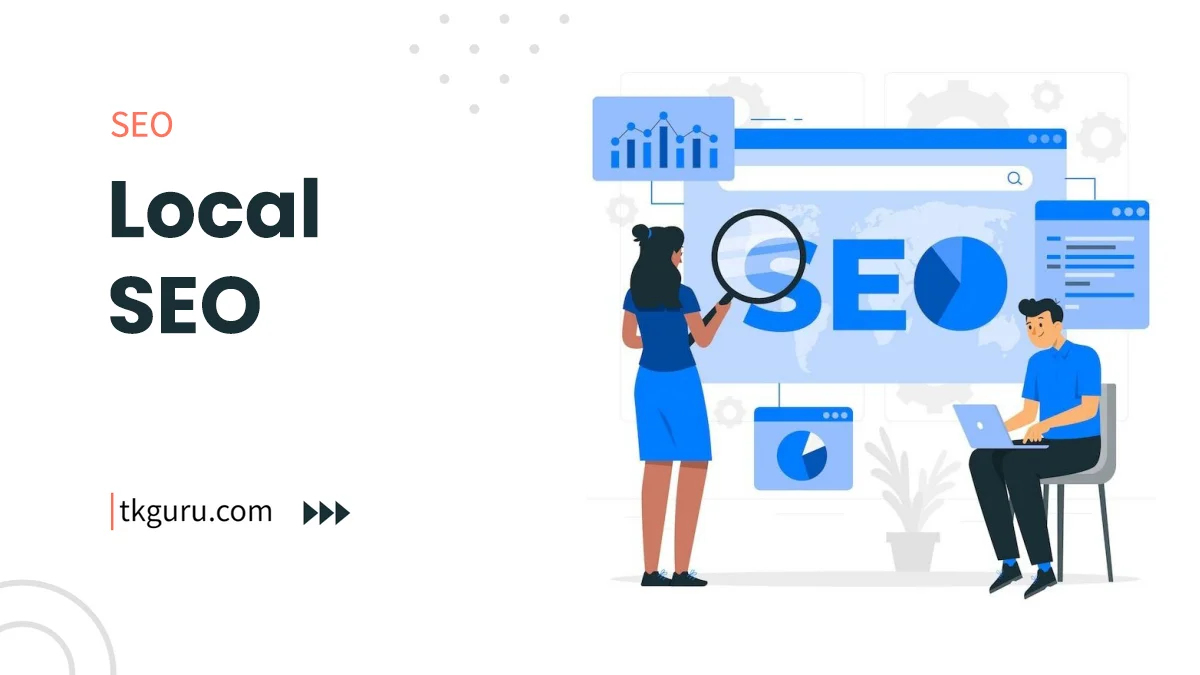 Disclosure:
Some of the links below are affiliate links, meaning that at no additional cost to you, I will receive a commission if you click through and make a purchase. Read our full affiliate disclosure here.
Local SEO – In the ever-evolving landscape of digital marketing, one facet has emerged as a potent tool for businesses with a physical presence: local SEO.
With consumers increasingly turning to search engines to discover local businesses, mastering the art of local SEO has become an imperative for those seeking to thrive in their local markets.
This comprehensive guide unveils the importance of local SEO, exploring its vital role in connecting businesses with their local communities and harnessing the power of location-based searches.
1. Understanding Local SEO
1.1 What is Local SEO?
In the expansive realm of SEO, local SEO stands as a specialized practice aimed at optimizing a business's online presence to attract local customers.
While traditional SEO focuses on global visibility, local SEO narrows its scope to establish a business's prominence in local search results.
The goal is clear: to ensure that when local customers search for products or services, your business emerges as a relevant and accessible option.
1.2 The Need for Local SEO
As consumer behavior evolves, search engines have become the go-to resource for finding local businesses.
Whether it's seeking a nearby café, a neighborhood boutique, or a local service provider, users increasingly rely on search engines to discover businesses that cater to their immediate needs.
The integration of local SEO into your digital strategy bridges the gap between the online and offline worlds, allowing businesses to seamlessly connect with local audiences.
2. Key Elements of Local SEO
2.1 Google My Business (GMB)
At the heart of local SEO lies Google My Business (GMB), a robust platform that serves as a digital storefront for businesses.
GMB listings provide users with essential information about a business, including its name, address, phone number, business hours, and even reviews.
By claiming and optimizing your GMB listing, you ensure that potential customers have accurate and comprehensive information at their fingertips when they search for your business.
Table 1: Key Components of a Google My Business Listing:
| Component | Importance |
| --- | --- |
| Business Name | Essential for identification |
| Address | Ensures accurate location data |
| Phone Number | Facilitates direct communication |
| Business Hours | Provides operating information |
| Reviews | Reflects customer experiences |
| Photos | Offers visual representation |
| Posts | Communicates updates |
2.2 NAP Consistency
The acronym NAP—Name, Address, Phone Number—resonates deeply in the realm of local SEO. Consistency in NAP information across various online platforms is paramount.
Ensuring that your business's name, address, and phone number are consistent across your website, GMB, and other directories builds trust with search engines, reinforcing your business's legitimacy and credibility.
2.3 Local Citations
Local citations are online mentions of a business's NAP information. These mentions occur on various platforms, including local directories, industry-specific websites, and social media.
Managing and building local citations on reputable sources not only enhances your business's online visibility but also contributes to search engines associating your business with your location.
Table 2: Examples of Local Citation Sources:
| Platform | Description |
| --- | --- |
| Yelp | Leading local business directory |
| Yellow Pages | Traditional business directory |
| Chamber of Commerce | Local business organization |
| TripAdvisor | Travel and hospitality reviews platform |
| Facebook Business | Social media platform for businesses |
3. Optimizing for Google Maps
3.1 Getting Listed on Google Maps
Appearing on Google Maps is an essential step in local SEO. To get listed, you need to claim and verify your business on Google My Business. This process involves confirming your business's location and confirming ownership.
3.2 Enhancing Google Maps Presence
Once listed, optimizing your presence on Google Maps involves strategic steps to ensure your business stands out:
Accurate Location Information: Ensure that your business's location is accurately pinpointed on the map.
Categories and Descriptions: Select relevant categories and provide a concise and engaging business description.
Photos: Add high-quality photos that showcase your business's exterior, interior, products, and services.
Reviews and Responses: Encourage and respond to customer reviews, demonstrating engagement and commitment.
4. Local Keyword Research
4.1 Importance of Local Keywords
In the realm of local SEO, keywords play a pivotal role in connecting your business with local audiences.
Local keywords are specific phrases that users input into search engines to find businesses or services in their vicinity.
Optimizing your website for these keywords enables you to align with user intent and capture relevant local search traffic.
4.2 Conducting Local Keyword Research
Keyword Tools: Utilize keyword research tools like Google Keyword Planner, SEMrush, or Moz to identify local keywords relevant to your industry and location.
Geographic Modifiers: Incorporate geographic modifiers such as city names, neighborhood names, or zip codes into your keywords.
Competitor Analysis: Analyze the keywords your local competitors are targeting to uncover additional keyword opportunities.
Long-Tail Keywords: Include long-tail keywords that address specific local queries, as these can lead to higher conversion rates.
Table 3: Examples of Local Keywords with Geographic Modifiers:
| Industry | Generic Keyword | Local Keyword with Modifier |
| --- | --- | --- |
| Restaurant | Italian food | Best Italian restaurant in [City] |
| Plumbing Services | Pipe repair | Emergency pipe repair in [Neighborhood] |
| Yoga Studio | Yoga classes | Affordable yoga classes near [Zip Code] |
5. Content Strategy for Local SEO
5.1 Creating Location-Specific Content
Crafting content tailored to your local audience is a fundamental pillar of local SEO.
Addressing local topics, events, news, and interests not only resonates with your target audience but also establishes your business as an active and engaged member of the community.
5.2 Integrating Local Keywords
Natural Integration: Integrate local keywords naturally into your content, ensuring it flows seamlessly for readers.
Location Pages: Create dedicated location pages for each area you serve, providing specific information about your services in that location.
Local Events and Guides: Publish content related to local events, festivals, and guides that showcase your expertise and local involvement.
6. Online Reviews and Reputation Management
6.1 The Impact of Reviews
Online reviews are more than testimonials; they influence local search rankings and consumer decisions. Positive reviews can attract potential customers, while negative reviews can deter them.
Therefore, actively encouraging genuine reviews and managing your online reputation is vital.
6.2 Managing Online Reputation
Prompt Responses: Respond promptly to both positive and negative reviews to show your engagement with customers.
Resolve Issues: Address negative reviews professionally, offering solutions to rectify any problems.
Show Appreciation: Express gratitude for positive reviews, showcasing your commitment to customer satisfaction.
7. Local Link Building
7.1 The Role of Local Links
Local link building involves acquiring backlinks from local businesses, organizations, and community websites.
These links serve as endorsements of your business's credibility and relevance within the local context.
7.2 Building Local Relationships
Collaboration: Partner with other local businesses for cross-promotion and link-sharing opportunities.
Local Directories: List your business on reputable local directories and industry-specific platforms.
Community Involvement: Participate in local events, sponsorships, and charities to gain exposure and build local relationships.
8. Mobile-Friendly and Responsive Design
In an era dominated by mobile device usage, ensuring that your website is mobile-friendly and boasts a responsive design is essential for local SEO.
Mobile-friendliness not only enhances user experience but also aligns with Google's mobile-first indexing, positively impacting search rankings.
9. Tracking and Measuring Local SEO Success
9.1 Key Metrics
Measuring the effectiveness of your local SEO efforts requires tracking key metrics:
Local Search Rankings: Monitor your business's position in local search results for target keywords.
Website Traffic: Analyze the amount of organic traffic generated from local searches.
Conversion Rates: Measure the rate at which local visitors convert into leads or customers.
9.2 Google Analytics and GMB Insights
Google Analytics: Use Google Analytics to monitor traffic sources, user behavior, and local engagement on your website.
GMB Insights: Utilize Google My Business Insights to gauge post interactions, search queries, and customer actions.
Conclusion
Local SEO is a dynamic discipline that empowers businesses to connect with their local communities in a digitally-driven world.
By optimizing for local searches, businesses can establish themselves as local leaders, drive foot traffic, and build enduring relationships with nearby customers.
Embrace the principles of local SEO, and let your business flourish on the digital map while making a tangible impact within your community.
Local SEO FAQs
What is Local SEO?
Local SEO (Search Engine Optimization) is a strategy focused on optimizing a website to increase its visibility in local search results.
It aims to connect businesses with local customers by improving their online presence within a specific geographic area.
Why is Local SEO important for businesses?
Local SEO is essential for businesses with a physical presence or those serving specific local markets.
It helps potential customers find relevant information about your business, including address, phone number, reviews, and operating hours.
How does Local SEO differ from traditional SEO?
While traditional SEO targets broader search queries, Local SEO focuses on optimizing for location-specific keywords.
It also involves managing online listings, gaining local reviews, and ensuring accurate business information across platforms like Google My Business.
What are some key factors in Local SEO?
Key factors in Local SEO include:
Google My Business: Creating and optimizing your Google My Business listing with accurate information.
NAP Consistency: Ensuring consistent Name, Address, and Phone Number across online directories.
Local Citations: Getting listed in local directories, industry-specific websites, and local chambers of commerce.
Reviews: Encouraging positive online reviews from customers on platforms like Google and Yelp.
Location-Specific Content: Creating content that addresses local topics, events, and customer needs.
Can Local SEO benefit businesses without a physical storefront?
Yes, even businesses without a physical storefront can benefit from Local SEO. It can help service-based businesses, contractors, freelancers, and professionals connect with local clients within their service area.
Local SEO is a powerful tool for businesses looking to attract local customers. By optimizing for location-specific searches, managing online listings, and fostering positive reviews, you can increase your visibility and attract more local traffic to your website or storefront.
Recent Posts
Related Tags
local seo examples, local seo checklist, local seo strategy, what is local seo, local seo for small businesses, local seo benefits, what is local seo in digital marketing, local seo checklist 2023