Build business success online with the 10 best free WordPress themes tailored to elevate your website's professionalism and functionality.
"What are free business themes for website?
Which free business wordpress theme is best?
You all must have this kind of questions in your mind.
Below article will solve this puzzle of yours. Just take a look."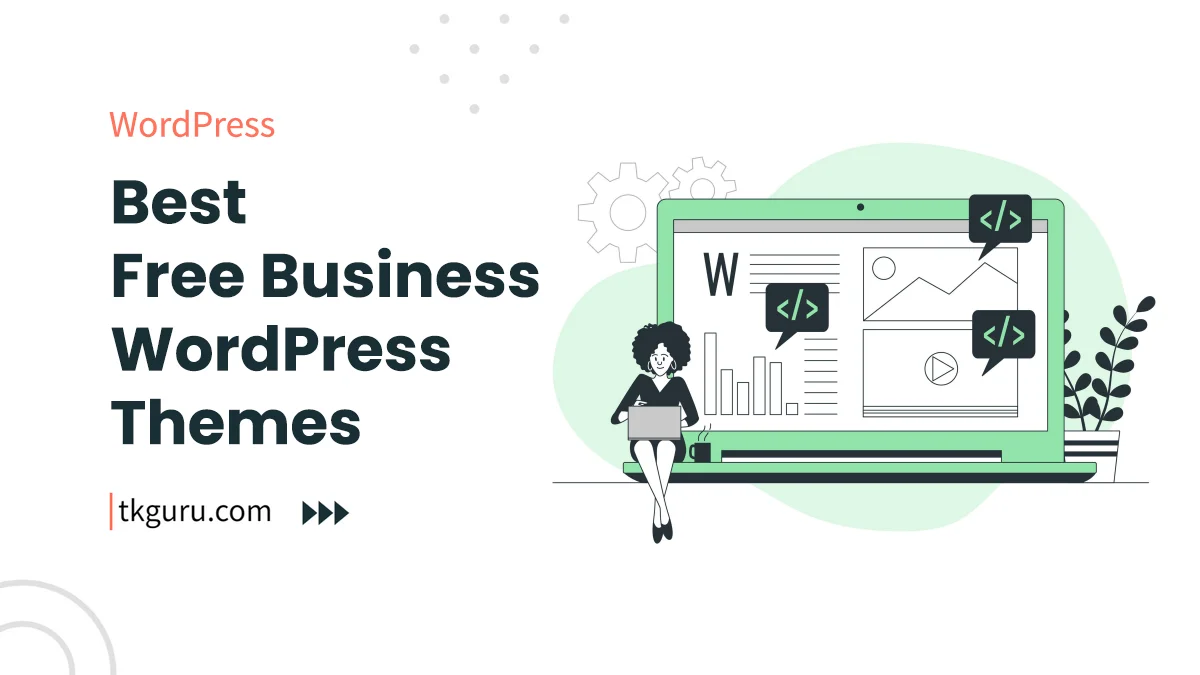 Disclosure:
Some of the links below are affiliate links, meaning that at no additional cost to you, I will receive a commission if you click through and make a purchase. Read our full affiliate disclosure here.
Free Business WordPress Themes – In today's digital era, a strong online presence is crucial for any business's success. A well-designed website serves as a virtual storefront, reflecting the professionalism and values of your brand.
Fortunately, WordPress, a popular content management system (CMS), offers an array of free themes tailored for business websites.
These themes combine aesthetics, functionality, and user-friendliness to help businesses establish a robust digital identity without straining budgets.
This guide delves into the top 10 free WordPress themes for business websites. Each theme is chosen based on factors such as responsiveness, customization options, speed, and compatibility with essential plugins.
Let's explore these themes and understand how they contribute to building a flourishing online presence for your business.
1. Criteria for Selection
Before we delve into the themes, it's essential to understand the criteria that guided our selection.
When it comes to business websites, certain features are non-negotiable for ensuring an optimal user experience and effective brand representation.
Responsive Design: In today's mobile-centric world, responsive websites are a necessity. All themes on our list prioritize mobile responsiveness, ensuring a seamless appearance and functionality across devices.
Customization Options: Every business is unique, and your website should reflect that. The themes we've selected offer customization options, allowing you to tailor design, colors, and layout to match your brand's identity.
Speed and Performance: Slow-loading websites can deter visitors. Our themes prioritize speed and performance, ensuring quick loading times and an excellent user experience.
Compatibility with Essential Plugins: Plugins enhance website functionality. The themes recommended are compatible with essential plugins, including SEO tools and e-commerce integrations, enabling you to expand site capabilities.
2. Top 10 Free WordPress Themes for Business Websites
2.1 Clean Business
Overview: A sleek and modern theme designed to showcase products and services effectively.
Key Features: Responsive design, customizable colors, intuitive navigation.
Suitable For: Tech startups, digital agencies, and creative services.
| Feature | Benefit |
| --- | --- |
| Responsive Design | Consistent experience across devices |
| Customizable Colors | Match theme with brand's color palette |
| Intuitive Navigation | Easy exploration for visitors |
2.2 Versatile Pro
Overview: A versatile theme with a clean layout, suitable for various business types.
Key Features: Responsive grid layout, flexible widget areas, easy customization.
Suitable For: Small businesses, consultants, and professional services.
| Feature | Benefit |
| --- | --- |
| Responsive Grid Layout | Organized and appealing content presentation |
| Flexible Widget Areas | Customize layout with ease |
| Easy Customization | Tailor theme to match business's style |
2.3 Elegant Store
Overview: A sophisticated theme highlighting products and engaging visitors.
Key Features: Full-width images, parallax sections, integrated contact forms.
Suitable For: E-commerce stores, fashion boutiques, and product-based businesses.
| Feature | Benefit |
| --- | --- |
| Full-Width Images | Prominent product and visual display |
| Parallax Sections | Depth and interactivity to the site |
| Integrated Contact Forms | Encourages visitor engagement and inquiries |
2.4 Professional Writer
Overview: A professional theme focusing on typography and readability.
Key Features: Clean typography, content-focused layout, multiple page templates.
Suitable For: Content-based businesses, blogs, and online publications.
| Feature | Benefit |
| --- | --- |
| Clean Typography | Improved readability and user experience |
| Content-Focused Layout | Highlights written content and articles |
| Multiple Page Templates | Diverse page layouts for different content |
2.5 Minimalist Shop
Overview: A minimalist theme with a clean and simple design.
Key Features: Minimal layout, elegant typography, WooCommerce support.
Suitable For: Startups, freelancers, and minimalistic brands.
| Feature | Benefit |
| --- | --- |
| Minimal Layout | Uncluttered and elegant design |
| Elegant Typography | Sophistication added to content presentation |
| WooCommerce Support | Integration of an online store with the site |
2.6 Dynamic Studio
Overview: A modern and dynamic theme emphasizing visuals and user engagement.
Key Features: Interactive animations, video backgrounds, customizable sections.
Suitable For: Creative agencies, design studios, and portfolio-driven businesses.
| Feature | Benefit |
| --- | --- |
| Interactive Animations | Enhanced visual appeal and engagement |
| Video Backgrounds | Immersive and captivating site backgrounds |
| Customizable Sections | Tailor site sections to showcase work |
2.7 Sleek Commerce
Overview: A sleek and elegant theme optimized for e-commerce and product displays.
Key Features: Product galleries, grid layout, quick view functionality.
Suitable For: Online retailers, e-commerce stores, and product catalogs.
| Feature | Benefit |
| --- | --- |
| Product Galleries | Highlight products with high-quality images |
| Grid Layout | Organized presentation of products |
| Quick View Functionality | Efficient viewing of product details |
2.8 Bold Corporate
Overview: A bold and impactful theme conveying brand identity.
Key Features: Full-width sections, custom icons, bold typography.
Suitable For: Corporate companies, tech startups, and modern businesses.
| Feature | Benefit |
| --- | --- |
| Full-Width Sections | Commands attention and showcases key content |
| Custom Icons | Unique touch with personalized icons |
| Bold Typography | Modernity and confidence communicated |
2.9 Readability Pro
Overview: A clean and minimalistic theme optimized for readability.
Key Features: Clear typography, organized layout, integrated blog section.
Suitable For: Informational websites, consulting firms, and knowledge-based businesses.
| Feature | Benefit |
| --- | --- |
| Clear Typography | Easy reading and comprehension |
| Organized Layout | Structured presentation of information |
| Integrated Blog Section | Sharing insights and informative articles |
2.10 Landing Page Master
Overview: A versatile theme for creating effective landing pages.
Key Features: Landing page templates, conversion-focused design, CTAs.
Suitable For: Lead generation, product launches, and campaigns.
| Feature | Benefit |
| --- | --- |
| Landing Page Templates | Simplified creation of targeted landing pages |
| Conversion-Focused Design | Directing visitors towards specific actions |
| Call-to-Action Buttons | Prompting user engagement and interaction |
Conclusion
Selecting the right WordPress theme for your business website is pivotal for building a successful online presence.
These ten free themes offer a spectrum of features, designs, and niche suitability. Whether aiming for a sleek corporate image, a creative portfolio, or an e-commerce platform, these themes empower you to tailor your website to your brand's essence.
Consider your business's objectives, target audience, and required functionalities before making your choice.
Customize the selected theme to resonate with your brand's personality and embark on a journey towards digital success.
Call to Action
Ready to elevate your business's online presence? Explore these free WordPress themes to discover the one that resonates with your brand's identity.
A well-designed website is an investment in your business's future. Begin crafting a captivating online platform that communicates your values and engages your audience today.
Free Business WordPress Themes FAQs
What are free business WordPress themes?
Free business WordPress themes are pre-designed templates that can be installed on a WordPress website or blog to create a professional and functional website for businesses of all types.

These themes are available for free and can be downloaded from the official WordPress theme directory or third-party sources.
What are some popular free business WordPress themes?
Some popular free business WordPress themes include Hestia, Sydney, Zillah, Talon, and Illdy.

These themes offer a variety of features and customization options to create a unique and engaging website for your business.
How do I install a free business WordPress theme?
To install a free business WordPress theme, you can go to the WordPress theme directory or your WordPress dashboard, search for the desired theme, and click on the 'Install Now' button.

Once the theme is installed, you can activate it and customize it through the Appearance > Customize section in your WordPress dashboard.
Can I customize a free business WordPress theme?
Yes, many free business WordPress themes offer customization options to modify the look and feel of your website. Most themes have settings and options that can be adjusted through the WordPress dashboard.

However, it is important to carefully review the theme documentation and follow best practices to ensure compatibility and avoid conflicts with other themes or plugins.
Are free business WordPress themes safe to use?
Free business WordPress themes can be safe to use, but it is important to be cautious and only download themes from reputable sources.

The official WordPress theme directory is a safe and trusted source for free themes. It is also important to keep your theme updated and remove any themes that are not actively maintained or pose a security risk.
Recent Posts
Related Tags
best free wordpress themes for business, free wordpress business theme with demo content, import export business wordpress theme free download, best wordpress themes for business, free wordpress themes for software company website, best free wordpress theme for personal website, free wordpress themes for business with slider, services wordpress theme free download