Google AdSense Payment FAQs 2019 – Here we will answer all types of frequently asked questions related to Google AdSense payment. These questions are based on very basic knowledge but sometimes you get entangled in these questions. Therefore, here we have created a page to provide information related to Google AdSense payment.
Q.1. – When does Google pay for AdSense?
A.2. – Google AdSense pays monthly. Payment is made between 21st to 26th of every month. As soon as the payment process starts via google, it takes 4-10 days to get the payment of Google AdSense into your bank account.
Q.2. – How does Google AdSense pay in India?
A.2. – Google pays AdSense in India by wire transfer method. The wire transfer method is an electronic funds transfer technique. In this technique, google directly transfers the money to your bank account.
Q.3. – Can I get Google AdSense payment soon?
A.3. – No, google cannot release your AdSense payment before normal payment schedule for any reason.
Q.4. – Why has AdSense not yet been received in my bank account?
A.4. – Your AdSense payment may be blocked for any of the following common reasons:
(1) You have not sent information about your tax information.
(2) You have not set the mode of payment.
(3) You have not verified your address.
(4) You have a compliance hold on your account.
(5) You have not removed your self-hold.
(6) Your account is currently being reviewed for compliance with google program policies.
Q.5. – How much does Google AdSense pay?
A.5. – Google AdSense pays at least $ 100.
Q.6. – Can I take Google AdSense account from father name and earn AdSense in my bank account?
A.6. – Yes, create a Google AdSense account from your father's name or any family member's name and take AdSense earning into your bank account. For this, you have to fill your bank account details in Google AdSense account separately.

Go To :  Settings > Payments > Manage payment methods >  Add payment method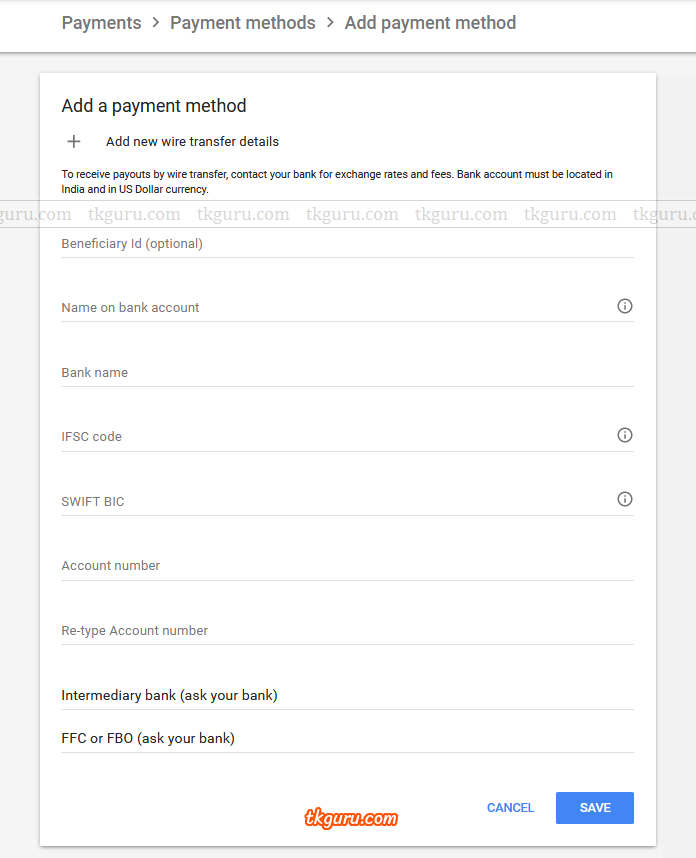 Thanks : I hope you like this article. Please let us know what you think about this article. If you have any suggestion and / or any query you may tell us using comment box. If you have not subscribe our blog so far then you must subscribe us now.

GOOGLE ADSENSE PAYMENT FAQS
। हिन्दी ।
Google AdSense Payment FAQs 2019 । हिन्दी । – यहां हम Google AdSense payment से संबंधित सभी प्रकार के अक्सर पूछे जाने वाले questions के answer देंगे । ये प्रश्न बहुत ही basic knowledge पर based होते हैं लेकिन कभी-कभी आप इन सवालों में उलझ जाते हैं। इसलिए, यहां हमने Google AdSense payment से संबंधित जानकारी प्रदान करने के लिए एक page बनाया है।
Q.1. – Google AdSense का payment कब करता है ?
A.2. – Google AdSense का payment monthly करता है। payment हर month की 21 से 26 तारीख के बीच किया जाता है। जैसे ही google के द्वारा payment process शुरू हो जाता है, Google AdSense का payment आप के bank account में आने में 4-10 दिन ओर लगते है ।
Q.2. – Google AdSense का payment india मे कैसे करता है ?
A.2. – Google AdSense का payment india मे wire transfer method से करता है । wire transfer method एक electronic funds transfer technique है । इस technique में पैसे google directly आपके bank account में transfer कर देता है । 
Q.3. – क्या मुझे Google AdSense का payment जल्दी मिल सकता है ?
A.3. – नहीं, google किसी भी कारण आपका AdSense का payment normal payment schedule के पहले जारी नहीं कर सकता है ।
Q.4. – अब तक मेरे bank account में AdSense का payment क्यों नहीं आया है ?
A.4. – आपके AdSense का payment निम्नलिखित सामान्य कारणों में से किसी के लिए रूका हो सकते हैं :
(1) आपने अपनी tax information की जानकारी नहीं भेजी है ।
(2) आपने payment का तरीका set नहीं किया है ।
(3) आपने अपना address verify नहीं किया है ।
(4) आपके पास अपने खाते पर एक compliance hold है ।
(5) आपने अपना self-hold नहीं हटाया है ।
(6) आपका खाता वर्तमान में google program policies के compliance के लिए review हो रही है । 
Q.5. – Google AdSense का payment कितनी earning होने पर करता है ?
A.5. – Google AdSense का payment कम से कम 100$ होने पर करता है ।
Q.6. – क्या मैं Google AdSense account father name से और AdSense earning मेरे bank account मे ले सकता हूँ ?
A.6. – हाँ, Google AdSense account आप अपने father name से या किसी भी family member के नाम से बनाइए और AdSense earning आपके bank account मे ले लीजिये । इसके लिए आपको Google AdSense account मे आपकी bank account details अलग से भरनी होगी ।

Go To :  Settings > Payments > Manage payment methods >  Add payment method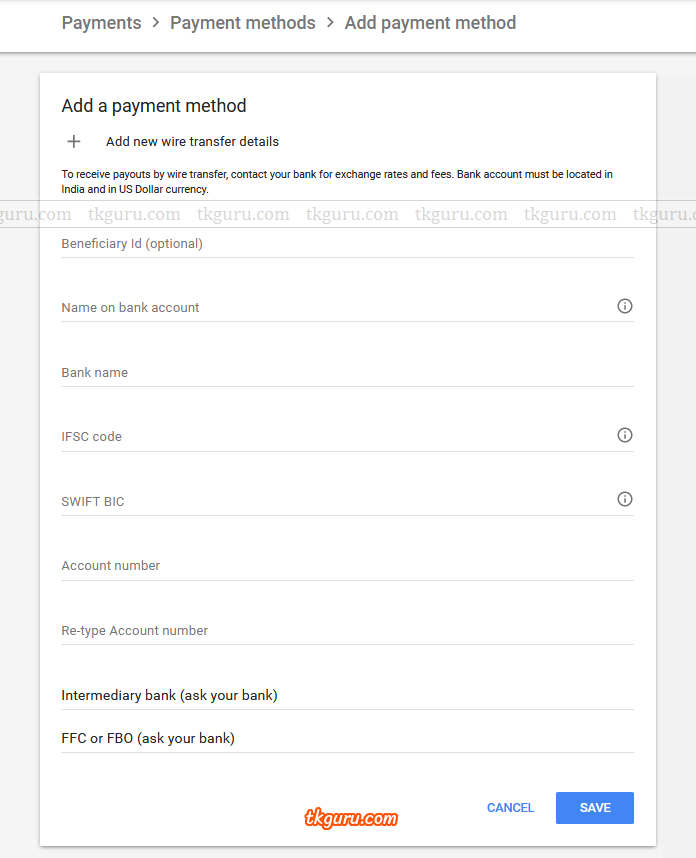 धन्यवाद : उम्मीद है यह article आपको पसंद आया होगा । कैसा लगा आपको यह article हमे बतायें या आप कोई सुझाव देना चाहते हैं या आप हमसे कुछ जानकारी चाहते हैं तो comment box में जरुर लिखें । हमारे blog को अभी तक अगर आपने subscribe नहीं किये हैं तो जल्दी से subscribe कर लें ।