"Can I use adsense & amazon ads on same page of website ?
Can I Use adsense & bluehost Ads on same page of website ?
You all must have this kind of questions in your mind.
Below article will solve this puzzle of yours. Just take a look."

Google AdSense and Affiliate marketing both are the best source of earning for bloggers at this time. So, many new bloggers wants to implement both Google AdSense ads as well as Affiliate ads on their blog or website but they are confused about it. The most common question in their mind is,
"Can I use AdSense and Affiliate ads on the same page of my website.
Will it be a violation of AdSense program policies ?
Will it be a violation of Affiliate program policies ?"
This is a most common question among new bloggers who just started blogging and they just get Google AdSense account approved for their new website. They also have approved Amazon, Flipkart, eBay, Bluehost, Hostgator like companies affiliate program account for their website.
Must Read : What is Google Adsense ?
 

Can I Use AdSense Ads along with Affiliate Ads on Same Web Page ?
The Answer is "Yes" you can place AdSense ads and Affiliate ads on the same web page and this does not violate neither AdSense program policies nor Affiliate program policies. Here we are providing a screenshot from the official Adsense help page, which clearly says that : "We do allow affiliate or limited-text links."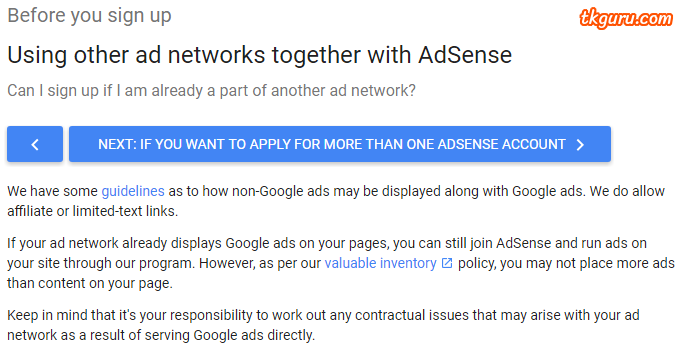 Must Read : What is Amazon (India) Affiliate Program ? How to Join ?
Google have some guidelines for how non-Google ads may be displayed along with Google ads. Here we are providing a list of Ad implementation policies which one must check before placing AdSense ads and Affiliate ads on the same web page.
Avoiding accidental clicks
Encouraging accidental clicks
Unnatural attention to ads
Placing ads under a misleading heading
Site layout that pushes content below the fold
Aligning images with ads
Formatting content to mimic ads
Offering compensation
Distance between ads and flash games
Ensuring proper ad placement
Valuable inventory
Auto-refreshing ads
Ads on thank you, exit, log in, or error pages
Ads on dynamic content
Ads in emails
Ads in a software application
Ads in a new window
Ads in pop-up and pop-under windows
Ads on a site with pop-ups or pop-unders
Ads on pages behind a login
Ads on the same page or site as another publisher
Ads on a hosted site (e.g., Blogger)
Displaying a third party site on your page
 More Details : Ad Implementation Policies
Suggestion : You can earn from AdSense programs on per click basis while using Affiliate programs you can earn on per sell basis. The Affiliate program work well on product based sites while Google Adsense work well with information based sites. If your website serve for both purposes well then you can use both on your website.
Conclusion : Yes, you can use both AdSense ads and affiliates ads on the same page of your blog or website unless you do not violate AdSense content guidelines and provide a clean experience to your readers. By now, you must have clearly understand that there is no issue in using both AdSense ads along with affiliate ads on the same web page.
 Thanks : I hope you like this article. Please let us know what you think about this article. If you have any suggestion and / or any query you may tell us using comment box. If you have not subscribe our blog so far then you must subscribe us now.